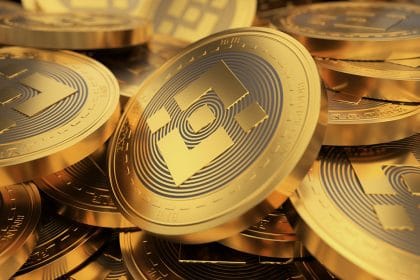 Binance coin (BNB) is now up over 3688%, 97%, and 38% in the past year, 30 days, and two weeks respectively.
Binance native coin BNB has jumped over 6.2% in the past 24-hours to trade around $663 at the time of reporting according to metrics provided by CoinGecko. Binance coin (BNB) has now joined Bitcoin and Ethereum as the only crypto projects with over $100,000,000,000 market capitalization. Notably, with a circulating supply of 154,533,651 BNB coins out of 170,533,651 BNB coins,the total market capitalization stood at $102,461,939,450.
Putting the figures into a better perspective, BNB is now bigger than Zoom Video Communication Inc (NASDAQ: ZM), Snap Inc (NASDAQ: SNAP), General Motors Co (NYSE: GM), and also Coinbase Global Inc (NASDAQ: COIN).
Binance coin (BNB) is now up over 3688%, 97%, and 38% in the past year, 30 days, and two weeks respectively through Monday. BNB breakout followed closely the Ethereum breakout that began earlier during the weekend. Although Binance ecosystem as other uses apart from smart contract, it is considered a major competitor to Ethereum ecosystem that is currently experiencing high transaction fees due to network congestion.
Underlying Factors that Fueled Binance Coin (BNB) Major Rally
BNB is the native coin to the largest cryptocurrency exchange by daily traded volume. Notably, the asset is used to pay for fees on the Binance ecosystem, thus creating a major utility.
Led by CEO CZ, Binance developed one of the most sophisticated and at the same time user-friendly blockchain dubbed Binance Smart Chain. Over time, major decentralized financial platforms have been deployed on the BSC including PancakeSwap, Linear Finance, and Venus protocol.
Due to low transaction fees and higher throughput in comparison to other leading smart contract blockchains, Binance Coin has continued to grow immensely.
BNB has significantly outperformed other top digital assets, primarily fueled by retail speculation. Hypothetically, the Binance coin (BNB) has grown tremendously thanks to the crazy speculation besides the ecosystem growth.
To add on the matter, Binance has been involved with BNB quarterly burn, meant to reduce the overall BNB supply to 100 million in less than a decade. The firm intends to do so by burning its reserves among other sources.
From a technical point of view, Binance Coin (BNB) was awaiting a breakout from the prior bullish pennant consolidation. The asset had experienced a resistance level since mid-April between $460 and $630.
The asset broke out right at the beginning of the week and also at the beginning of the month. Having closed a strong weekly and monthly bar, the asset could rally further thanks to the ongoing cryptocurrency adoption by both retail and institutional investors.
Altcoin News, Binance News, Blockchain News, Cryptocurrency news, News
A financial analyst who sees positive income in both directions of the market (bulls & bears). Bitcoin is my crypto safe haven, free from government conspiracies.
Mythology is my mystery!
"You cannot enslave a mind that knows itself. That values itself. That understands itself."