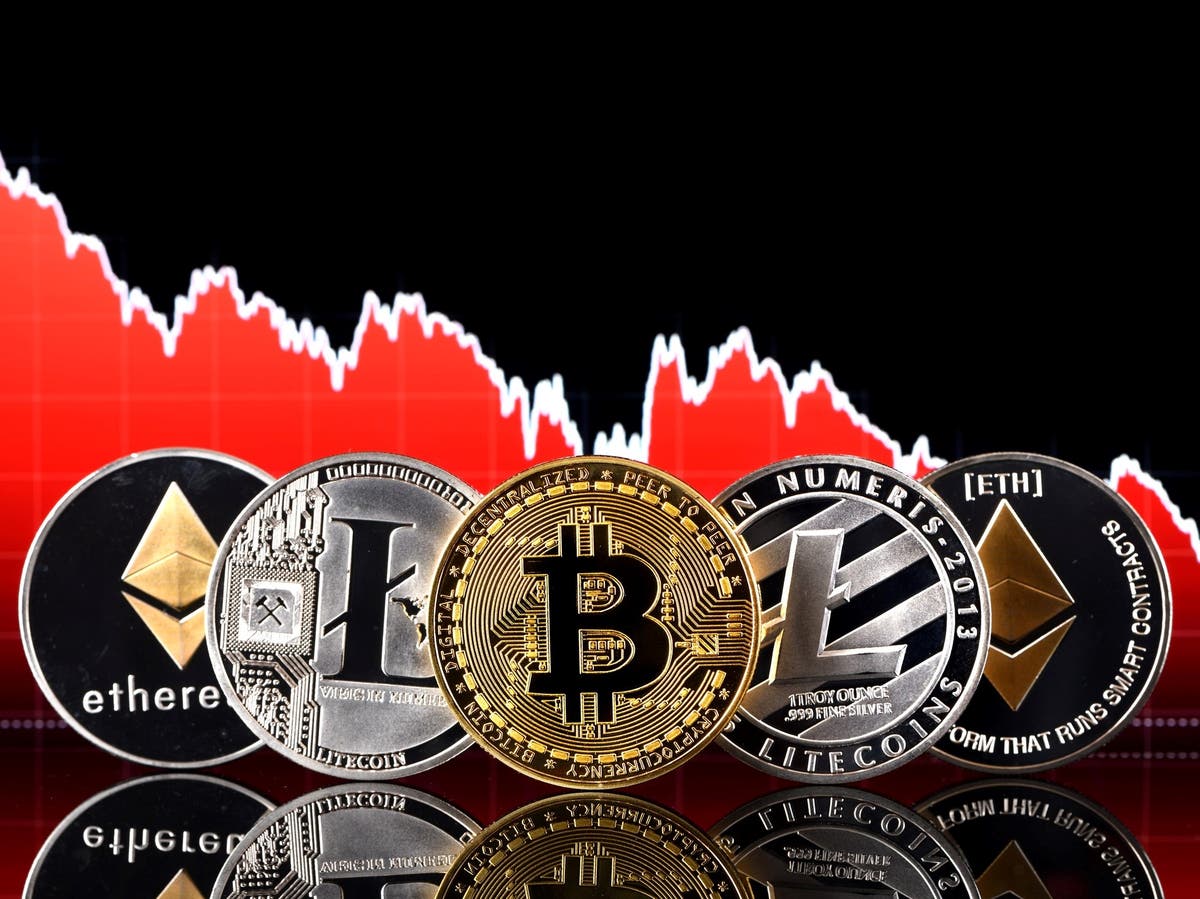 The price of bitcoin and other leading cryptocurrencies continue to slide at the start of the week, amid news that certain British banks are cracking down on crypto exchanges.
Ethereum (ether), Cardano (ada) and dogecoin all fell on Monday morning, though one cryptocurrency was able to buck the trend. Ripple (XRP) shot up in value by more than 10 per cent, taking it back towards $1.
Despite the latest losses, both Cardano and Ethereum are up by around 10 per cent week-on-week, while bitcoin is trading at roughly the same price. The relative stability has left analysts divided over whether bitcoin is at the start of a bear market or whether this is just a price correction on the way to new all-time highs in 2021.
Elon Musk, whose tweets and comments have managed to move the market in recent months, was once again sharing memes about dogecoin over the weekend. Some are hopeful that the recent council established to look at bitcoin's environmental impact could help turn the cryptocurrency's fortunes around.
We'll have all the latest news right here.
1622454035
Bitcoin car at Indy 500
In more positive news, one of the cars at the Indy 500 this weekend featured a full bitcoin livery.
The car led for around 10 per cent of the 200 lap race, with driver Rinus Veekay starting in third place.
Ed Carpenter Racing (ECR) numbered the car 21, a nod to the 21 million bitcoins that will ever exist, and said the stunt was aimed at spreading adoption of the cryptocurrency.
"The whole movement is amazing," team owner Ed Carpenter told Autoweek. "I really believe that it is the future of what our financial system is going to look like… There's so many positives to it that make it so valuable in the long-term."
Anthony Cuthbertson31 May 2021 10:40
1622448505
British banks crackdown on bitcoin and crypto exchanges
Several leading banks in the UK have blocked customers from transferring money to cryptocurrency exchanges, preventing them from buying bitcoin, ethereum and other cryptocurrencies.
Barclays was the biggest name to stop users from adding funds to exchanges like Binance, but online banks Monzo and Starling also updated their policy, claiming that it was due to financial crime concerns.
Starling said the measure would only be temporary and would be reversed once better protections are put in place. It is estimated that UK citizens lost around £60 million from crypto-related scams last year, though this is just a fraction of the amount lost through fiat currency fraud.
Monzo said it was "in no way a blanket ban on all crypto trading" and that only certain platforms would be restricted.
Anthony Cuthbertson31 May 2021 09:08
1622442913
Bitcoin price continues to slide
The price of bitcoin is still showing no signs of recovery, falling by more than 5 per cent overnight.
The broader crypto market saw similar losses, with most major cryptocurrencies down on Monday morning. Only Ripple (XRP) has bucked this trend, rising by more than 5 per cent over the last 24 hours.
Despite the downturn in recent days, both Ethereum (ether) and Cardano (ada) remain way up week-on-week, trading 10 per cent and 15 per cent higher respectively.
Overall, the market remains in relative limbo, with analysts divided over whether this is the beginning of a long bear market, or merely a price correction within a bull run that will head to new all-time highs in 2021.
Anthony Cuthbertson31 May 2021 07:35