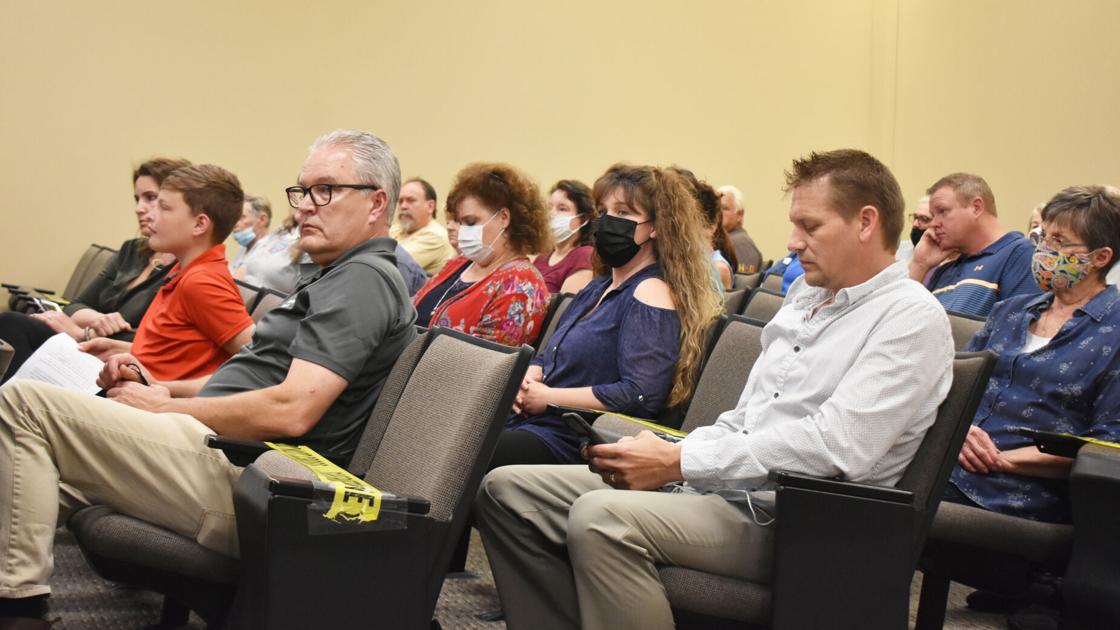 Residents in the Limestone area told Washington County commissioners Monday that a bitcoin mining operation is damaging both the property values and the serenity of their rural community.
Craig Ponder, pastor of New Salem Baptist Church, said his congregation and neighbors of the community were being disturbed by the constant noise from the computers and cooling fans used by Red Dog Technologies in its cyber mining operation.
He said residents in the area "feel invaded by an army we have no say in."
Bitcoin mining is a process that produces cryptocurrency by using computers to solve very complex math problems.
"Our quality of life is being impacted," Ponder told commissioners.
While there was no item on the commission's regular agenda dealing with bitcoin mining, residents in the Limestone community used the public comment period to address the issue and to warn commissioners that they fear a second bitcoin facility may be in the works at a location near Tenn. Highway 81.
In other business Monday:
• Commissioners discussed a recommendation from the County-Owned Property Committee calling for the Washington County Election Commission to move its offices, which are currently on the third floor of the Washington County Courthouse, to nearly 2,000 square feet in the George P. Jaynes Justice Center.
In addition, the Election Commission is asking the county to lease event space behind the Food City in Jonesborough as an early voting site in next year's elections. The Heritage, 161 Molly Grayce Lane, would only be leased for nine weeks to accommodate early voting.
County commissioners voted in March to ask for an extension of the county's expired lease on the former Ole Towne Ace Hardware building at 220 N. 2nd Ave. in Jonesborough while County Mayor Grandy negotiated a possible option for the county to buy the property.
The 10,700-square-foot hardware building was used by the Election Commission as one of three early voting sites in 2020.
Commissioner Jim Wheeler made a motion under old business to purchase the former hardware building at a negotiated cost of $900,000. The motion failed in a 7 to 8 vote.
• County commissioners voted to renew a $285,504 contract with East Tennessee State University for forensics and autopsy services at the William L. Jenkins Forensic Center.
Commissioners also voted to confirm Grandy's appointment of Dr. Andrea Orvik to a five-year term as county medical examiner. Her appointment begins July 1.
The county's new forensics contract remains at the same rate commissioners approved last year. The county will pay $23,792 a month for pathology services.
• Commissioners approved a resolution to authorize spending the $2.1 million previously allocated in the capital projects fund to complete work on the final phase of a sports complex at Boones Creek pre-K-8 School. Commissioners approved $875,000 in 2019 for the first phase of the $3.2 million project.
Phase II now includes "construction of new playing fields, buildings, structures and site improvements for new athletic fields and facilities."
Boones Creek School, which was built at a cost of $28 million, opened in July 2019.
• Commissioners agreed to allocate $660,260 in county funds to secure a matching industrial site preparation grant from the Tennessee Valley Authority.
The maximum amount the county can be awarded from the TVA's InvestPrep program is $750,000. Those funds would come as a result of a 40% local match.
The funding will be used to develop two new sites in the Washington County Industrial Park in Telford.