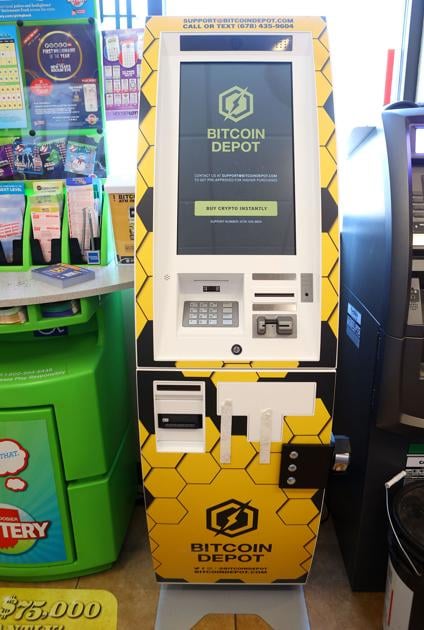 Ever wanted to buy Bitcoin? Now you can at new Bitcoin ATM machines installed earlier this year at two local gas stations.
Kokomo Shell, 3750 N. 00 East West, and One Stop Express, 615 N. Washington St., recently placed the machines operated by the company Bitcoin Depot. The company also operates one in Logansport at Express Stop on East Market Street.
The ATMS, which the company calls BTMs, allow anyone to buy the popular cryptocurrency immediately after setting up an online account. The company said it takes less than a minute to create an account, and users can purchase up to $15,000 of Bitcoin at a time from a machine.
Kokomo Shell said the gas station installed its machine about a month ago, and it's seen some traffic since then. One Stop Express said its BTM arrived five months ago and has been used by a steady stream of customers.
The company said it is the largest and fastest-growing cryptocurrency ATM network in the country. In the last six months, the company has more than doubled its kiosk footprint, surpassing 2,500 kiosks worldwide. In May, it opened 350 new crypto ATMs in five states.
The company said its growth demonstrates the increasing popularity of cryptocurrency transactions, as Bitcoin and other digital cryptocurrencies move toward the mainstream.
Bitcoin Depot President and CEO Brandon Mintz said the kiosks allow people to essentially self-bank through the digital wallet on their phone by turning their cash into cryptocurrency, which can be used to transfer money, pay bills or invest.
"We are proud that our continued expansion will bring this option to more people across the world," Mintz said in a release.
A surge of large convenience chains have started hosting crypto ATMs. Major companies such as Microsoft, Home Depot, Starbucks and Whole Foods have also made the move to accept Bitcoin as payment.
Bitcoin Depot's kiosks also allow users to buy lesser-known cryptocurrencies, such as Litecoin and Ethereum. The company said as different cryptocurrencies become more popular, it will adopt them to the ATM machines.