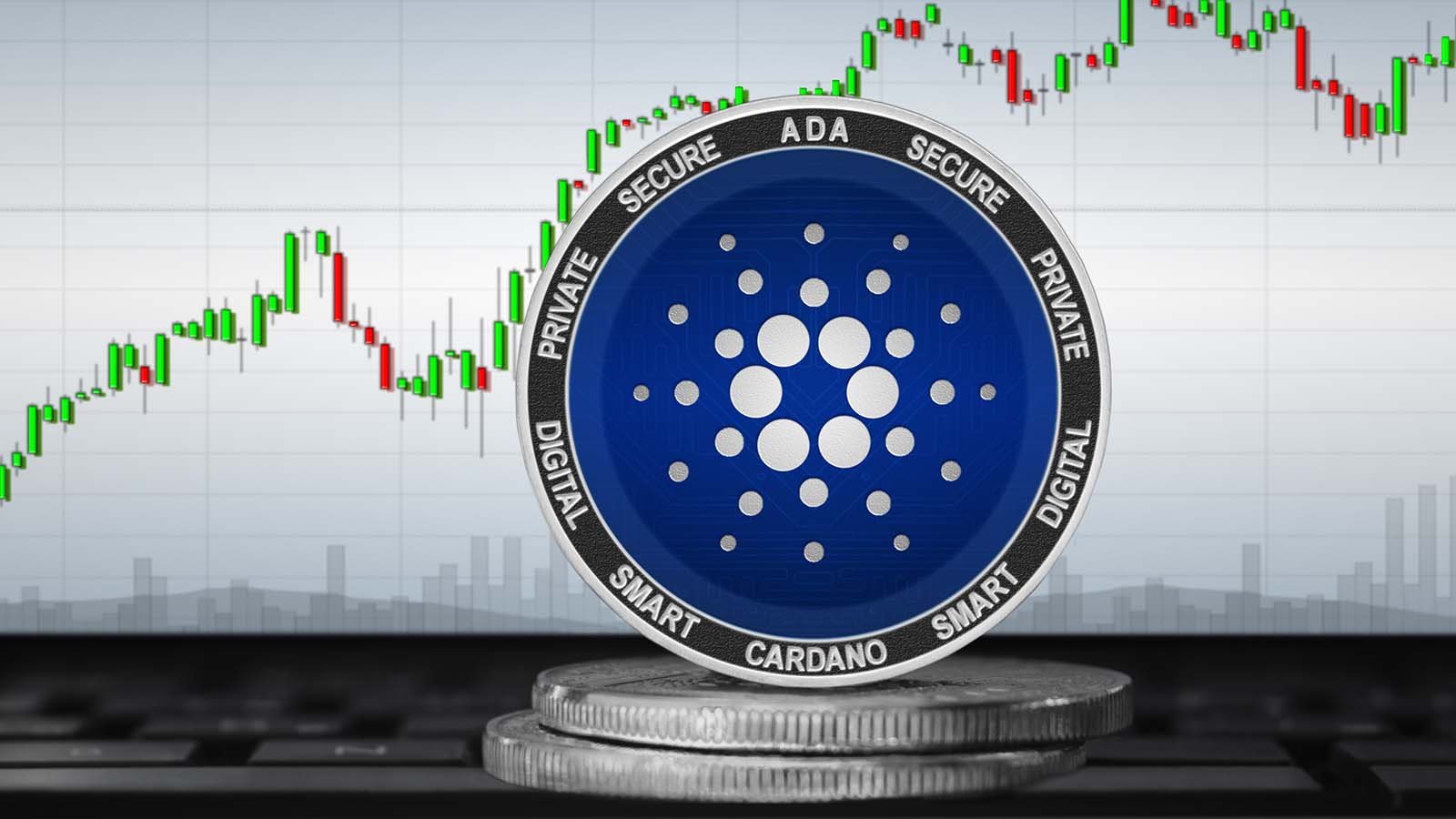 The Cardano (CCC:ADA-USD) team's impending upgrades could lead to greater adoption of ADA by the end of summer, and beyond.
We've already expressed our opinion that Cardano is one of the best "green coins" in the news lately.
If you missed that article, we complemented Cardano's eco-friendliness when compared Bitcoin (CCC:BTC-USD) and Ethereum's (CCC:ETH-USD) resource-intensive mining protocols. And ADA's blockchain is not just a little bit more efficient…
It's four million times as energy efficient.
And now that Cardano's smart contracts are finally in sight — the team has projected a September rollout for to the public — our bullish outlook on Cardano's future staying power has strengthened.
Cardano Desperately Needs Smart Contracts
Cardano looks to join the functional ranks of Ethereum and other competitors with its planned implementation of smart contracts.
Smart contracts, if you were wondering, are the most significant difference between BTC and ETH. Without them, Bitcoin can only be used as a currency. With them, Ethereum is capable of being used to create decentralized applications.
These "dApps" power the games, decentralized exchanges and other innovative applications that have led to Ethereum's popularity. In essence, a smart contract is a piece of immutable code, or program, that acts as an intermediary between two or more parties during a transaction.
Human third-parties in non-blockchain environments can be malicious or greedy. They can say they'll take X and give back Y, but there's no infallible system in place that would stop them from going back on their word.
Blockchain transactions — which are not always monetary in nature — can be secure and reliable thanks to the existence of smart contracts.
This is because smart contract code never changes. In fact, smart contracts exist on a blockchain alongside all other transaction data, meaning that not even developers can change these contracts somewhere down the line. This ensures transparent, fast and publicly-verifiable code.
The faster Cardano can roll out its smart contract functionality to the general public, the better. This is because Ethereum is simultaneously racing to fix their network scalability issues.
The longer Ethereum takes to effectively scale, the better shot Cardano has at filling the "scalable and efficient" crypto void that Ethereum would like to pretend doesn't exist.
And Cardano isn't far behind. As the #4 crypto as of today, Cardano appears to stand the best against Ethereum. The only coin standing between Cardano and Ethereum is a stablecoin.
Stablecoins, by design, don't change in value and aren't in competition with ETH or ADA.
Ethereum and Cardano are the utility-providing blockchains at the top of the food chain right now.
However, Ethereum currently has a decent lead on Cardano at over five times the market cap — approximately 30 billion versus 55 billion.
Cardano's Smart Contract Rollout Plan
If you were waiting for a good time to load up on Cardano's ADA coin, that time is likely close at hand.
Each stage of the gradual smart contract rollout process will last a few weeks to a month or so, though. This means you have some time to accumulate ADA before the hype finally kicks in later this season.
But keep in mind that, given the current state of the market, there will be price fluctuations on the way to the Alonzo test network's public release.
One of the biggest concerns about Cardano to-date has been its lack of smart contracts.
Apparently their methodical, research-intensive process has just taken a long time to flesh out.
The blockchain functionality that has been in development since Cardano's launch in 2017 looks to be finished a few months from now, finally.
And, because it came after Ethereum, Cardano benefits from having the foresight to separate its blockchain into two layers — an accounting layer and a computation layer. The accounting layer handles the movement of value across the network, and the other deals with decentralized applications.
Part of the reason Ethereum's network is so bogged down presently is because it tries to use a single layer to handle everything on the network.
The Ethereum "Layer 2 scaling solutions" you've perhaps heard about are strategic attempts by third-party blockchains to handle transactions "off chain" on a network separate from Ethereum.
But, now that a reasonably concrete timeline is in place, we expect Cardano news to start snowballing as the public launch date approaches.
Smart Contract Functionality Is Just the Icing on the Cake
Other blockchains besides Ethereum exist that offer developers the ability to create smart contracts. Cardano is not special in that regard.
Where the Cardano project has a leg-up against other smart contract-enabled blockchains besides Ethereum is in its research-backed development and growing list of real-world applications.
In addition to the advantages below, Cardano also plans to release a system to connect the Ethereum blockchain to its own. This would make the two chains interoperable, enabling one to send tokens back and forth. Which, consequently, would ease any potential migration pains that might prevent someone from transitioning away from Ethereum.
But, more important than cross-chain connectedness…
Research-Driven Development: Cardano's consensus algorithm, dubbed Ouroboros , was the first peer-reviewed provably secure algorithm. Cardano's extensive list of research papers can be found in their documentation, and naturally is too much to cover in a single article. What's even more impressive? IOHK, the company that "builds cryptocurrencies and blockchains for academic institutions, enterprise, and government entities," is also responsible for developing Cardano. And IOHK has a whopping 103 research papers available for the crypto enthusiast to pore over. Cardano and IOHK mean business. When they say they're backed by research, they mean it.
Applications for Cardano in the Real World: Despite IOHK's focus on research, there are already several practical uses for Cardano. Some have already begun to be implemented, and many more are planned for the future. And, of course, with the addition of smart contract capabilities, additional practical uses will become possible. In Africa, IOHK is working on the biggest blockchain deal ever. In Ethiopia, more specifically, a Cardano-based digital identity solution is being rolled out to serve over five million students. There are also other projects in Africa dealing with donating to help children, building a network infrastructure, supporting entrepreneurs and educating individuals on the newest technology. In addition to Ethiopia, there are also a handful of universities and education ministries partnering with Cardano's IOHK to research blockchain technology, utilize Cardano's blockchain technology, or some combination of the two. For example, the University of Edinburgh, the University of Wyoming and the Ministry of Education in Georgia.
Cardano has also been utilized by New Balance to verify shoe authenticity. If that wasn't enough, Cardano has a for-profit branch called EMURGO dedicated solely to facilitating commercial ventures that grow Cardano's usage and adoption.
Bottom Line on Cardano
After Cardano successfully upgrades its blockchain to allow for smart contracts, scaling and governance become the next concerns, in that order.
While both of these will be essential to ADA's decentralized global adoption, we believe smart contracts in particular will accelerate Cardano's growth through summer, and beyond.
Cardano is well-positioned for growth, and we're strong supporters of the project and its mission in the long run.
But, there are other cryptos we're even more fond of…
And right now, at this very moment, our team of hard-nosed cryptocurrency experts are hard at work hand-picking the best cryptocurrencies, altcoins and tokens to buy. Our team of technology and crypto experts spend every single day sifting through every scrap of blockchain-related news and information. We painstakingly do this in order to bring you only the most relevant insights such as this one about Cardano, but in regard to the technology landscape as a whole.
Rather than regurgitate what others say about different cryptocurrencies, we're taking a thoughtful, research-heavy approach to discovering the innovative projects that will impact how we interact with technology. We're a lot like Cardano in that way.
Over the next few weeks and months, you'll see our crypto picks emerge in Innovation Investor, which currently features the most cutting-edge technologies and world-changing companies.
To learn more, check out Innovation Investor today, and come along for the ride.
On the date of publication, Luke Lango did not have (either directly or indirectly) any positions in the securities mentioned in this article.
By uncovering early investments in hypergrowth industries, Luke Lango puts you on the ground-floor of world-changing megatrends. It's the theme of his premiere technology-focused service, Innovation Investor. To see Luke's entire lineup of innovative cutting-edge stocks, become a subscriber of Innovation Investor today.