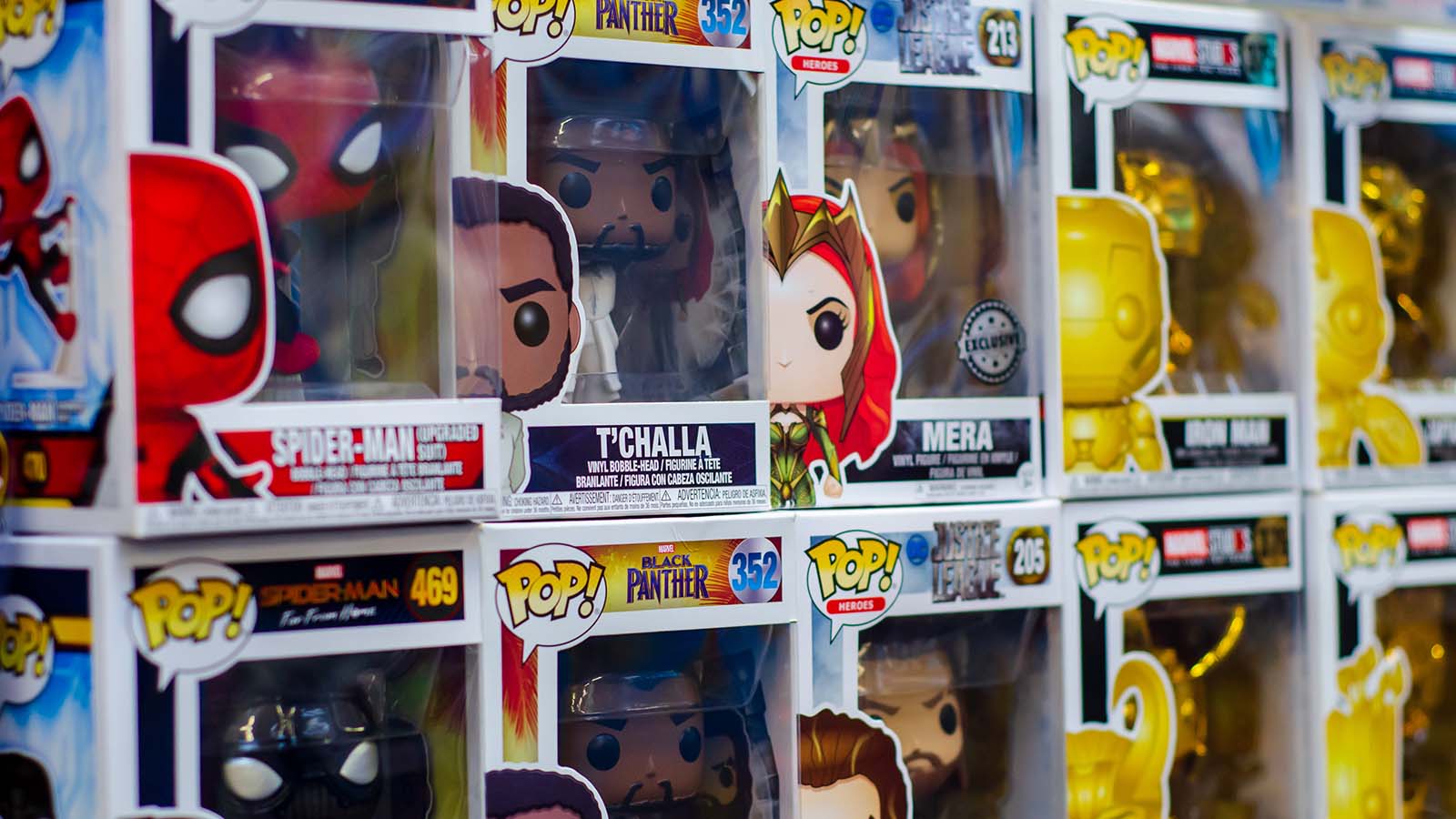 Digital proof of physical ownership will be huge in the future will one day benefit mainstream society in countless ways. And although this new technology could take time to seep its way into other industries, blockchains will first bring physical toys into the digital space. As I type, NFT versions of Funko's (NASDAQ:FNKO) physical toys are heading to market, which should provide Funko with a larger audience and an early entry into the emerging digital market. Of course, that's great for FNKO stock holders.
Physical goods such as Funko's toys can benefit from being "tokenized," or converted to data that can be stored on a blockchain in a few ways.
For one, being able to collect digital versions of Funko Pop toys will be inherently fun for many. Some people might argue that collecting digital items makes no sense, but a lot of collecting makes no "sense." NFTs have been rising in popularity, and Funko's unique usage of the technology will make it stand out.
In addition to being fun to collect digitally, Funko's utilization of blockchain technology means that some of its toys will have verifiable authenticity — these toys can then be verified as authentic by anyone. Tampering with and faking ownership will become impossible, because blockchains are immutable and permanent. So, experts in authenticating and fragile, paper documents will no longer be necessary for the collecting world and will become a thing of the past.
This is great news for collectors. When buying physical or digital items online, no longer will an item's authenticity be in question. 
And great news for Funko and its collectors means great news for Funko's stock holders.
FNKO Stock: Funko's Established Physical Presence
Funko has an established brand of physical toys and millions of fans.
They sell licensed Funko Pop toys appealing to a diverse crowd by Disney (NYSE:DIS), Harry Potter, various professional sports leagues, famous bands, popular cartoons and more.
In early May, Funko announced its Q1 results, and its numbers were solid.
Net sales shot up 38% to $189.2 million. Both U.S. and U.K. markets saw strong demand for all of Funko's products, not just their mainstream Funko Pop toys.
Direct-to-consumer sales also shot up — more than 160%. Most importantly, as far as their NFT plans go, is the news of Funko's recent acquisition being completed.
In April, Funko officially declared its intent to enter the NFT space when it announced that it was acquiring a majority ownership of a leading digital collectible app. The app, TokenHead, allows NFT owners to track and show off the NFTs they own. It also shows information about NFT market prices, so users can track how the value of their collection changes over time.
Once the global pandemic initially happened, Funko's stock crashed hard. It had been climbing its way out of this rut until last year's positive Q4 results, when it really started to take off.
Thanks to its consecutive successful quarters, FNKO is trading around pre-pandemic levels and is posed to fly higher once its digital toy NFTs launch.
Physical Toys Get Virtual Debut
Later this June, however, we should see leading toy-maker Funko get a head start on other physical toy brands by tokenizing some of its wildly popular Funko Pop toys.
One thing to note is that not all NFTs will correspond to a physical toy — only the rarest digital toys.
Digital Funko Pop toys will be available for sale for just $9.99 any day now on the WAX blockchain, which is a blockchain that focuses only on NFTs, ease of use and has zero gas fees.
The low entry cost and choice to avoid Ethereum (CCC:ETH-USD) in favor of a feeless blockchain, called WAX (CCC:WAXP-USD), ensures that the maximum number of interested fans can take part in the digital action all around the globe.
Funko won't be the first company to offer physical goods backed by digital proof of ownership, but they're likely the biggest.
Previous Attempts at Combining Physical and Digital
Various lesser known, designer toy brands have released physical toys that also come with a digital version. These brands haven't had the same goals as Funko, however.
Whereas Funko seeks to make digital NFTs accessible for all of its fans, existing tokenized toy offerings do the opposite — prioritizing scarcity and cost over accessibility.
These designer toy companies offer NFT-backed toys at steep prices, in limited numbers and usually on the Ethereum blockchain.
One example is Toymint. This small company offers three different toys that come with accompanying NFT versions. Each toy has only 20 copies and costs, at current Ethereum prices, over $900. If high prices weren't enough, Ethereum's gas fees also add another wrench in the system, making every single buy, sell and trade transaction cost collectors additional money.
Even Gucci has mentioned they will someday release NFTs, but these will supposedly be digital-only. And they certainly won't appeal to the largest crowd.
In April of this year, the band Weezer released their own set of NFTs on the WAX blockchain.
They did something similar to what Funko will end up doing, but on a smaller scale, obviously.
The band released random packs of "NFT toys" of varying rarities based on one of their new album's songs. The rarest edition of each NFT existed in a single copy and could be redeemed for a an extremely exclusive, physical toy.
But, as we just mentioned, nobody has yet attempted anything on the same scale, with as much broad appeal as Funko. Funko won't be the first, but they'll certainly be the biggest company to offer a combination of NFT and physical toys thus far.
So, they're essentially the first to do something like this, with this mindset.
Funko Could Convert Crypto-Skeptics Into Digital Collectors
For many people, the only news they have heard of NFTs is in regard to exclusive, "fine art" NFTs that have sold for thousands if not millions of dollars.
Low cost NFTs created by a familiar brand could convert some NFT skeptics into NFT collectors, by showing them that NFT collecting doesn't need to be complicated, expensive or pretentious. And the more people Funko convinces that blockchain technology isn't bad, the more potential digital customers they have.
As mentioned earlier, Funko NFTs will only cost $9.99.
Granted, not all NFTs purchased will be redeemable for a physical Funko toy. But we believe the low entry cost to acquire digital Funko Pop toys will be a greater success with Funko's fans than other tactics would be.
For example, Funko could charge large amounts of money for a guaranteed physical-digital toy. But a "lottery style" chance of distributing toys means fans can get their hands on a prized, exclusive toy for as little as $9.99 — not upwards of a hundred dollars or more.
Sure, it's a gamble. But people enjoy testing their luck. We've seen this strategy play out effectively when it comes to other collectible media as well, like physical trading cards. In Funko's case, instead of a holographic card, you're getting a rare toy authenticated by cutting-edge technology.   
Funko's Familiarity Helps
Funko also has an established brand of physical toys that people are familiar with. Usually, convincing the average person that blockchain technology is anything more than an overcomplicated, environmental disaster can be difficult. But Funko's decision to utilize a carbon neutral blockchain that is also incredibly simple could counteract this initial adoption friction. If easy and interesting enough, Funko could lead many people to take their first plunge into the world of crypto. And the more people it can bring into the world of NFTs, the more customers it acquires.
But not all customers will necessarily be fans of Funko's physical toys first. Funko also stands to gain from attracting entirely new customers that aren't as interested in physical toys as they are digital collectible. Not everyone desires physical toys that take up physical space in the home. But anyone can store tens, hundreds or thousands of Funko Pop NFTs with zero physical space requirements.
If Funko's NFTs end up not being a hit, the company haven't really lost much. Funko won't be left with boxes of unsellable merch lying around. There is the time spent creating digital assets and marketing them, of course, but production costs are nearly nonexistent.
Because of this, FNKO stock could potentially be safe from downward movement in regards to their new virtual products. Without NFTs, Funko is successful. With them, Funko could potentially be even more successful.
Funko's New Friend, WAX
Opting to use the WAX blockchain over other ones seems like the smartest move at the moment.
For one, working with WAX means Funko should be able to avoid criticism over environmental impact, since the WAX blockchain is 222,000 times more energy efficient than Bitcoin (CCC:BTC-USD) and Ethereum's networks.
WAX also has proven success launching brand NFTs on their platform.
A number of other well-known brands have successfully launched on WAX recently — MLB, Capcom, Deadmau5, Robotech, Garbage Pail Kids, Weezer, Godzilla and the list goes on. These brands' success bodes well for Funko's impending NFT drop.
In addition to working with the MLB and Garbage Pail Kids franchises, Topps also works with other partners that could find their way to the WAX blockchain someday. These partners include Star Wars, Disney, NHL and MLS. The MLB in particular recently reaffirmed their agreement with Topps to continue to offer MLB NFTs to fans based on its success with Series 1.
WAX's Leading Marketplace Dominates
The top marketplace for WAX NFTs, AtomicHub, already exceeds all other NFT marketplaces in all time number of traders and consistently ranks in the top five highest trading volume for 30-day, 7-day and 24-hour intervals.
The WAX platform also makes it easier for users to create wallets — long seed phrases aren't necessary — and there are no transaction fees. Collectors can buy, sell and trade all day long without losing large portions of their profits to fees.
Despite having less money changing hands, we believe the sheer number of traders on WAX is likely more important for Funko's NFTs.
And, thanks to "smart contracts" on WAX, Funko could set up their NFTs so that a percentage of every aftermarket sale. Rather than collecting zero profit from resellers, Funko can now, thanks to blockchain technology, capitalize on their products' increasing value over time. Achieving something like this is not feasible at all in the aftermarket for ordinary physical toys.
If consumers end up valuing some digital Funko Pop toys as highly as their physical counterparts, which can resell for up to several thousand dollars, then FNKO stock could reflect these zero cost, zero effort profits.
NFTs for All
Funko hasn't detailed exactly how their NFT offering will play out, but we do know that the entry cost will be lower than existing physical-plus-digital options.
Digital NFT Funkos will be available for everyone. But only a select few will "win" one of the more exclusive NFT toys. It is only these that will be linked to a corresponding NFT version. In an ideal world, however, both digital and physical toys have value for collectors.
Funko's decision to offer NFTs creates an entirely new market for the company that will exists alongside the existing physical one. Some fans will cross the divide and invest in physical and digital toys, but this isn't necessary. Funko fans can soon pick and choose from an even broader selection of Funko products.
We also don't see NFTs as having the potential to hurt FNKO stock.
If the NFTs don't perform well, then they don't perform well. Because they're digital, Funko loses little more than the time and effort put into digitizing their toys.
Funko doesn't need to compromise their physical product line to offer digital products.
The Bottom Line on FNKO Stock and Toy NFTs
What Funko is doing is not entirely new, but they are by far the biggest, furthest reaching company to attempt vIRL NFTs. And it's still new enough to the average consumer and collector to be able to significantly impact on both physical and digital collectible markets.
Funko has multiple, huge brand partnerships and an existing physical toy market that is booming.
Attracting the average collector of physical goods to the virtual realm of NFTs can be tricky, but Funko is well-suited to pull it off.
We think other companies will see Funko's (hopeful) success and follow suit soon after.
NFTs will soon exist anywhere you can imagine, and Funko's early entry into the space is huge for their future success in this virtual space.  
By the time other companies follow suit, Funko's big-name partnerships and established platform dominance will help them maintain their grasp on the digital collectible market. They've already figured out how to dominate the physical collectible space, and we think their digital toys could be just as big of a hit for them. 
And Funko isn't the only investment I'm bullish on that's making waves in the crypto space… In my ultra-exclusive Daily 10X Stock Report, I cover a number of companies and altcoins making a splash in the crypto world. Including a company I think could become the "PayPal of Cryptocurrency," an altcoin that could be the future "Blockchain GitHub" and another strong crypto play on the NFT marketplace.
Find out more with my free feature-length video, which details my secret method for scoring predictable, consistent 10X gains in both stocks and cryptocurrencies.
On the date of publication, Luke Lango did not have (either directly or indirectly) any positions in the securities mentioned in this article.
By uncovering early investments in hypergrowth industries, Luke Lango puts you on the ground-floor of world-changing megatrends. It's how his Daily 10X Report has averaged up to a ridiculous 100% return across all recommendations since launching last May. Click here to see how he does it.